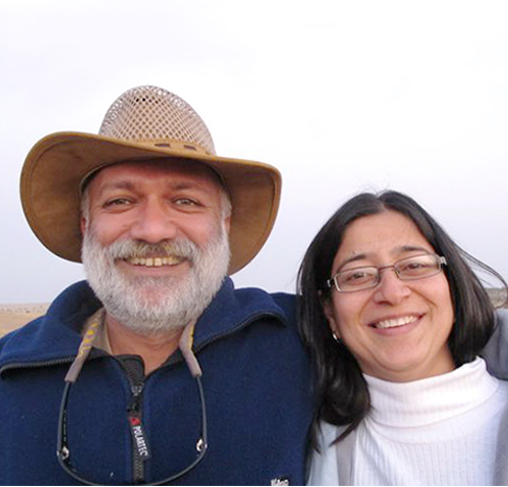 Salil Kumar & Sandra Kumar
Salil Kumar and Sandra Kumar are the two Trustees. Yes, they are married to each other and they have a son Arvaan Kumar, who is presently pursuing an undergrad degree in Environment and Sustainability.
Salil and Sandra met way back in the early 1990s, when both were working with the Danish International Development Assistance (DANIDA), he in the DANIDA Assisted National Leprosy Elimination Program and she in the DANIDA Assisted National Blindness Control Program.
Salil often refers to himself as an accidental accountant. Accidental, as today, while finance remains an integral part of his professional life, his interests, aptitude and sphere of work extend to include program design, implementation, capacity building and training, organisational strategies for growth and sustainability.
He brings close to 30 years of experience in the social sector having worked and consulted in several domains that include public health and nutrition, education, natural resource management and economic empowerment. He has worked with several national and international organisations that include Tata Trusts, GAIN, The Micronutrient Initiative (now Nutritional International), The Union, Sesame Workshop India, Breakthrough Trust and many more.
Besides The DevNext Foundation, he serves on the Boards of Centre for Catalyzing Change, FXB India Suraksha and Unniti Foundation Trust.
Sandra too brings over 25 years of professional experience. She worked with the DANIDA Assisted National Blindness Control Program as a Monitoring Officer and thereafter with the BBC World Service Trust as an Associate Research Manager for their media program on HIV/AIDS awareness. She is also a qualified Montessori teacher. Over the last decade she has run a consulting practice that has mostly focused on Capacity Building and Training programs with and within the social sector.